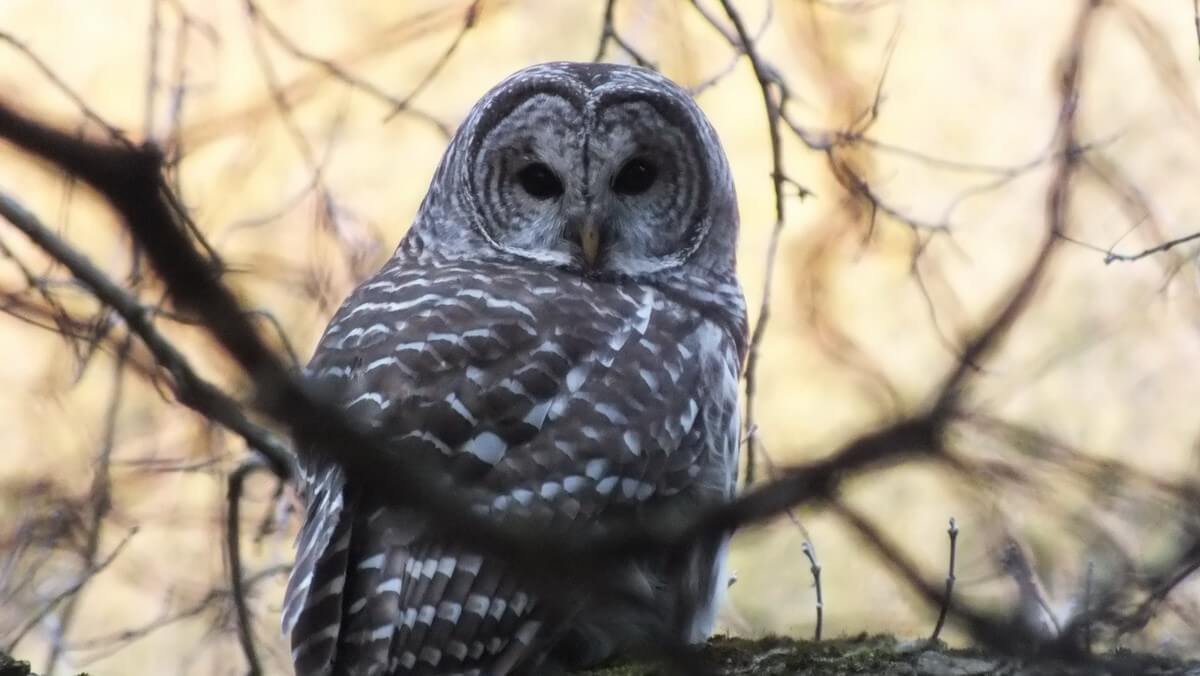 A Barred Owl Gives Us A Look Near Markham, Ontario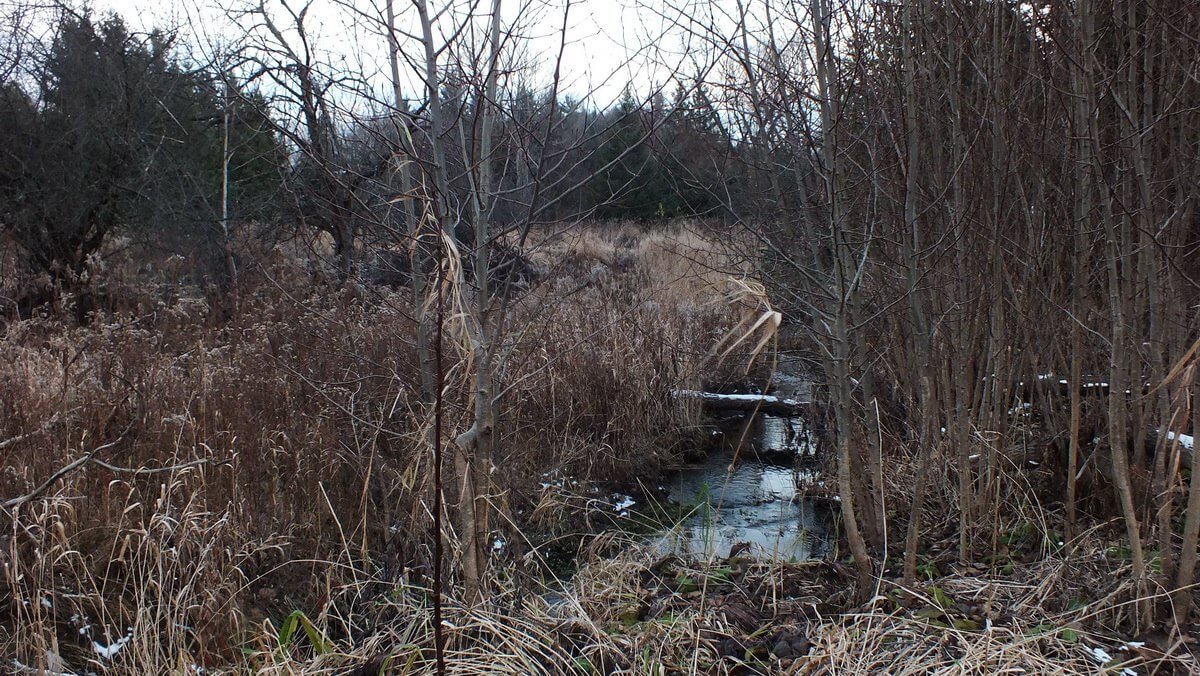 With the first light snow still on the ground, and with a cold northwest wind blowing, Bob and I chose to get out of the house for a while so opted for a hike.  With the luck we have been having lately, sighting birds, it is encouraging and somewhat addictive to go on the hunt for something new.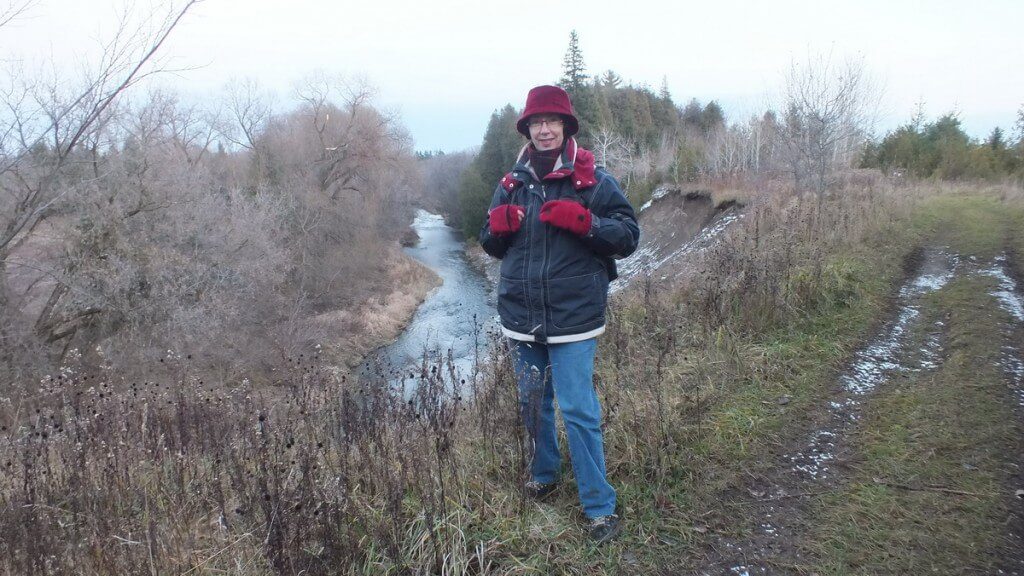 Bob and I were hiking along a small creek, called Duffin's Creek, in Rouge National Park.  It was a pleasant surprise to find that snow was still clinging to leaves and, where hidden from the sun, still coated crevices of the trail and depressions in the long grass.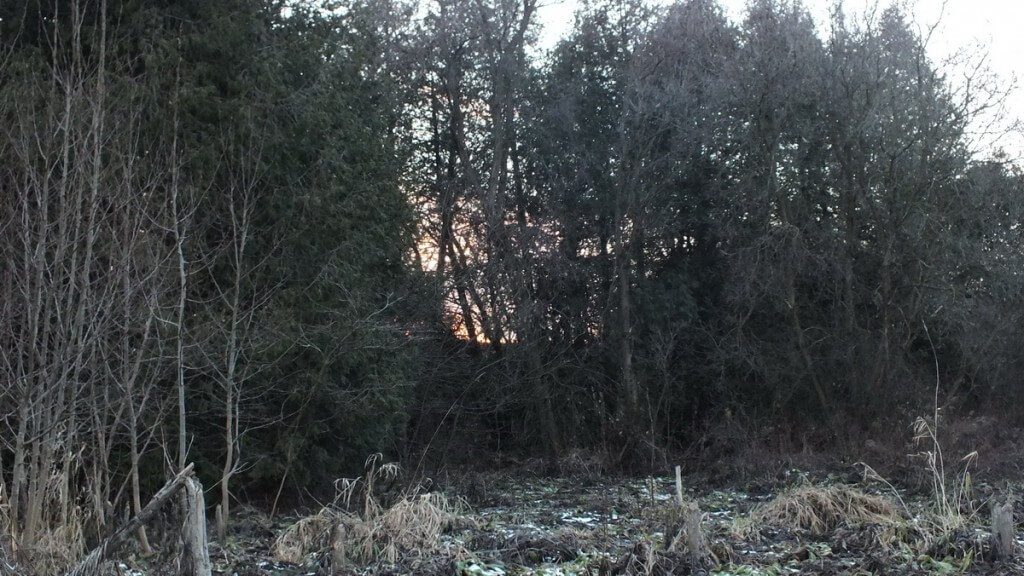 We followed the edge of the creek, retracing our route from an earlier hike this spring, and saw evidence in the mud of several deer that live in that forested area.  Despite being out there for close to two hours, we had seen no wildlife at all…not even a bird.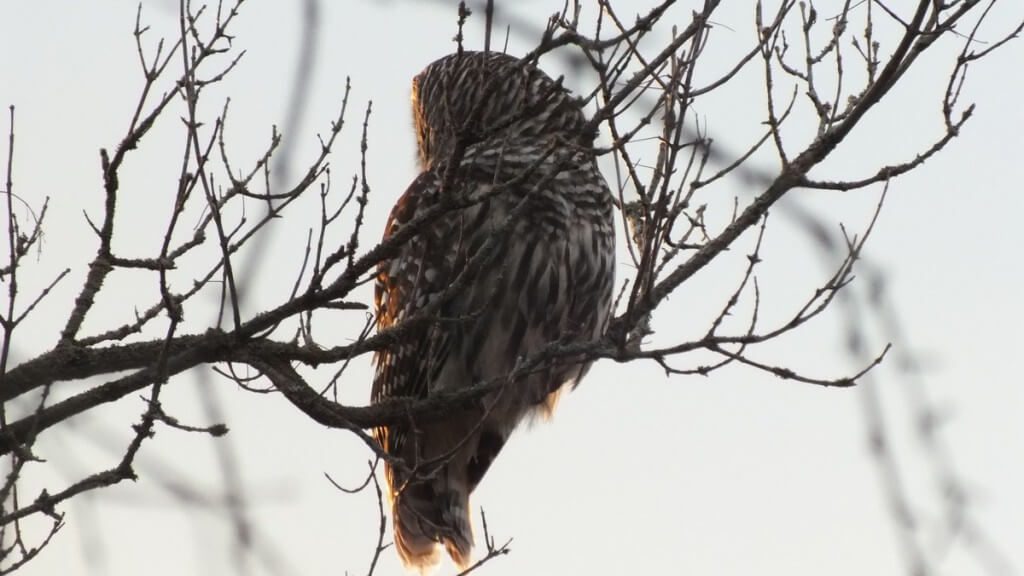 As the sun was sinking lower and time was getting on, Bob's eye suddenly registered an usual silhouette in a tree as he glanced to the right.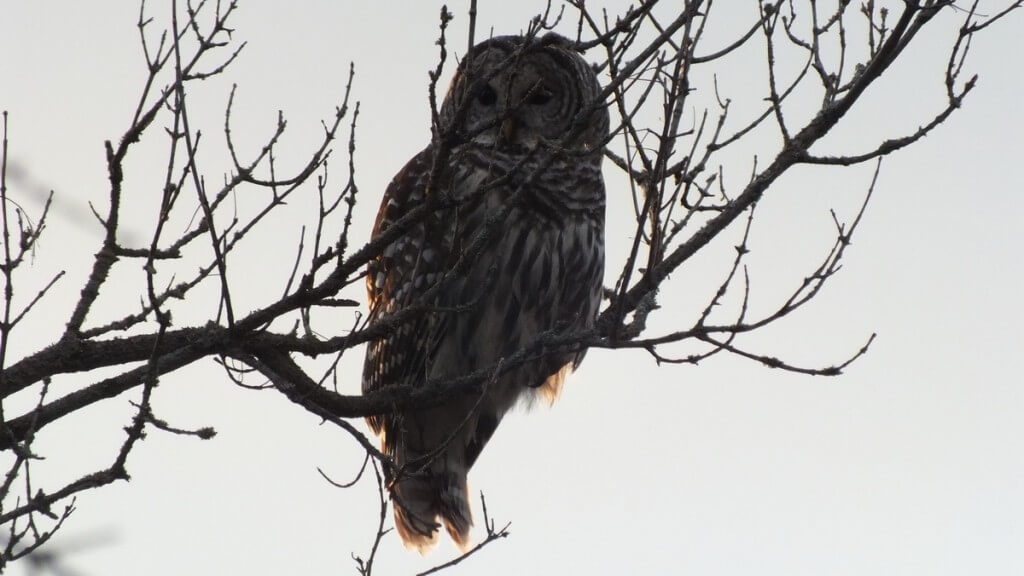 There, sitting on a branch, in a tree next to a cornfield, was a Barred Owl.   What a pleasant surprise!!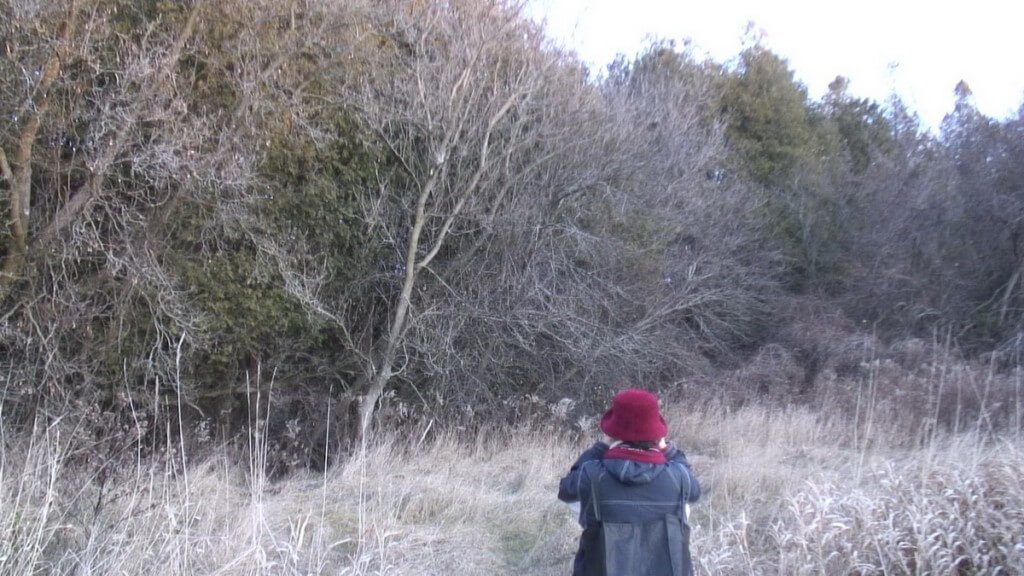 I immediately picked up on its presence, cast my mitts to the ground and turned on my camera.  Bob was already filming by then.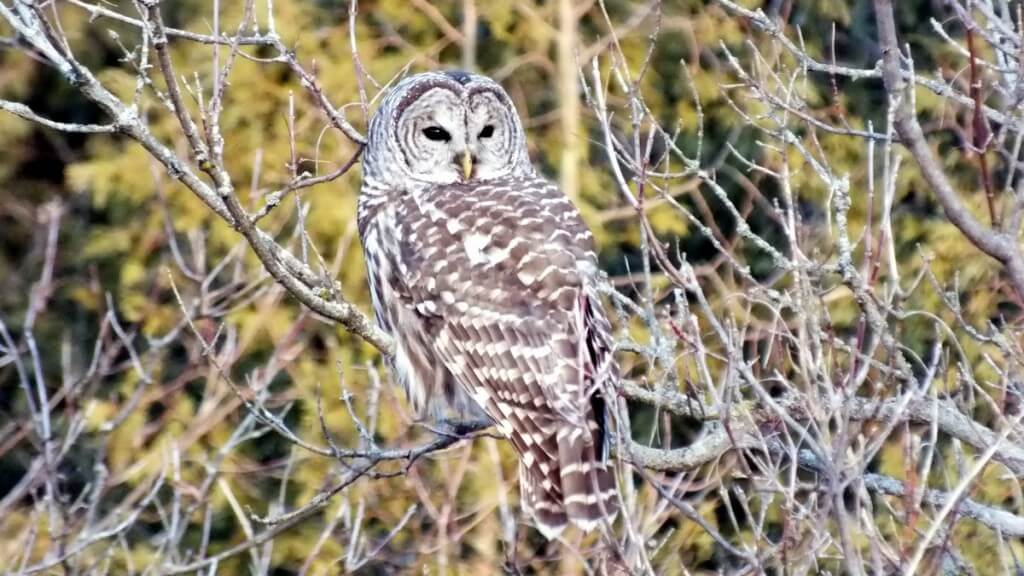 Slightly smaller than a Great Horned Owl, they have a well-developed facial disk, with dark eyes.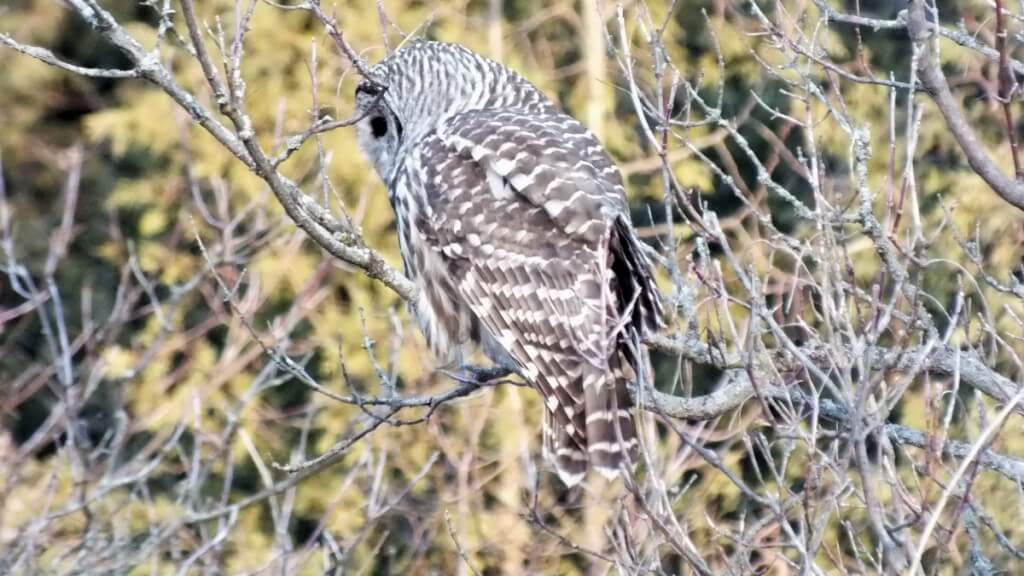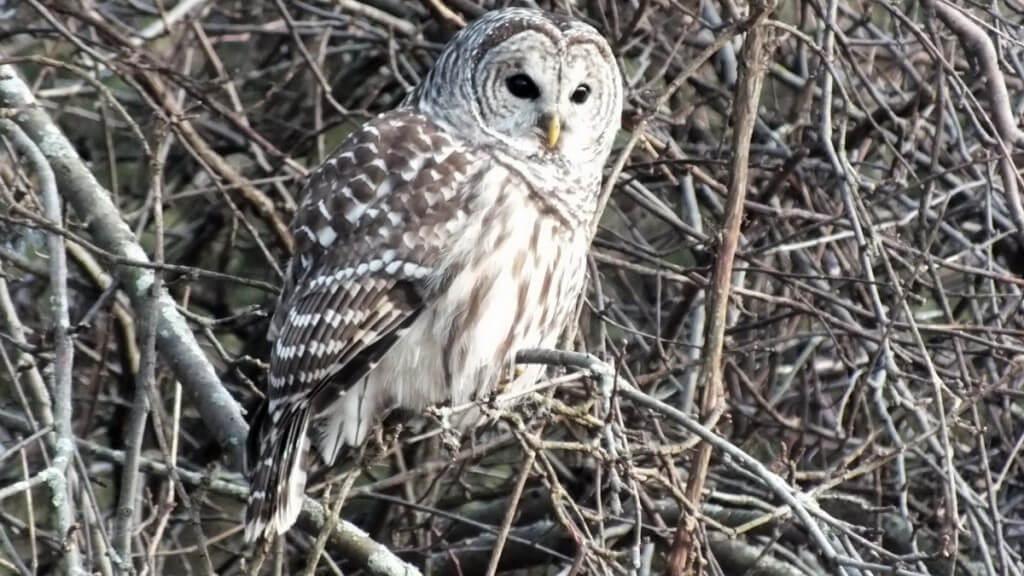 Barred Owls are very common in the United States and central and northern Ontario, however they are extremely rare in parts of southwestern Ontario.   According to Bird Studies Canada, Barred Owls are elusive birds making them difficult to actually sight and observe.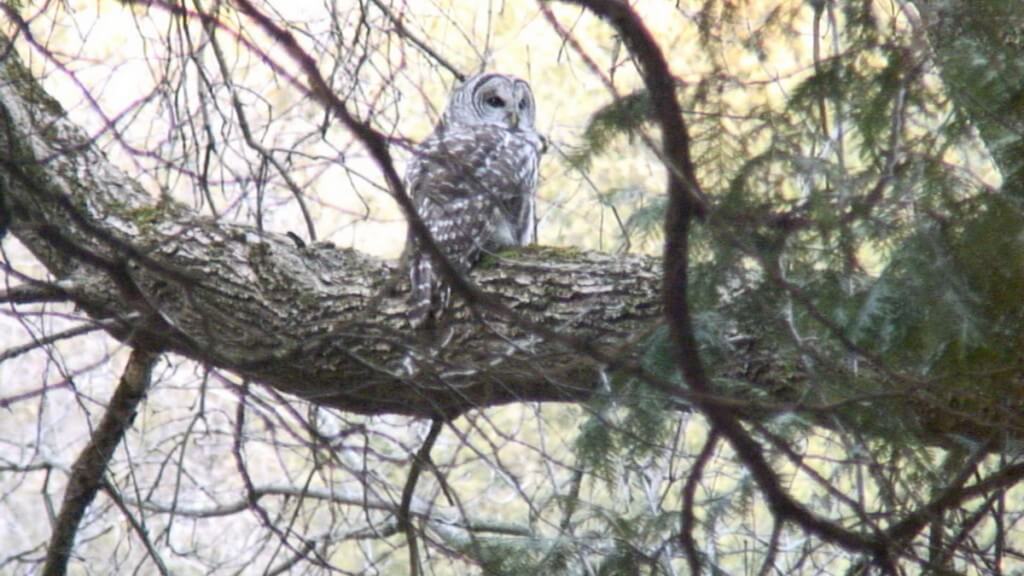 Barred Owls like to eat small mammals like squirrels, mice and rabbits, and even, on occasion, they will eat other birds like grouse.  In the area where we first spotted the Barred Owl, corncobs from the nearby cornfield littered the forest floor.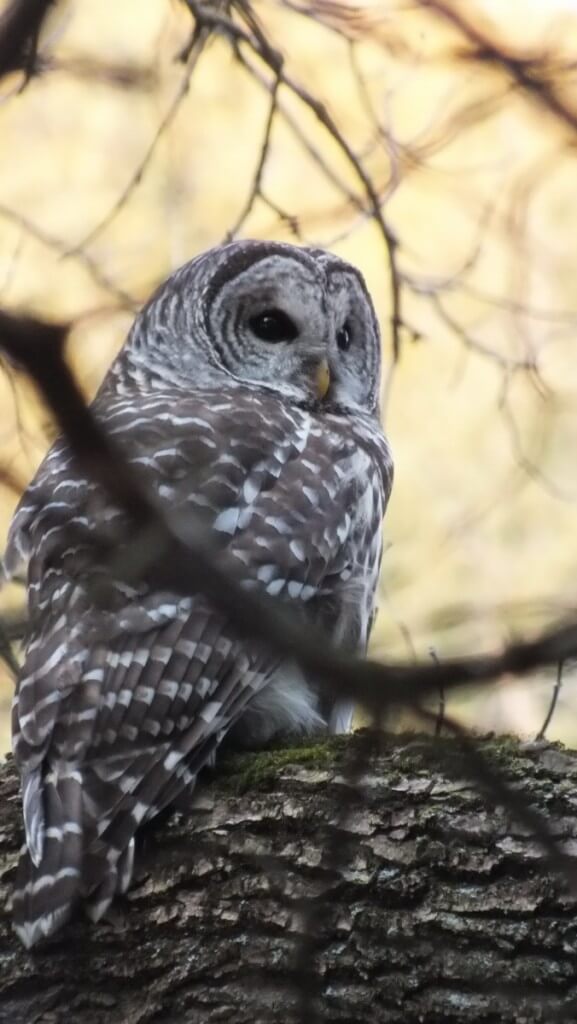 Barred Owls are gray-brown in color, with a round head and NO ear tufts.  Adults tend to be around 43-50 cms in size.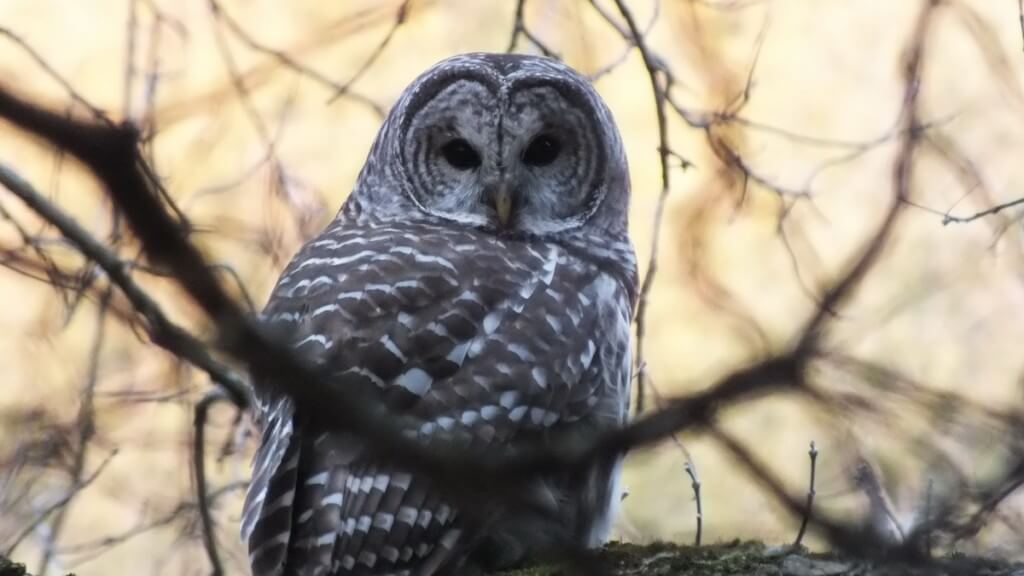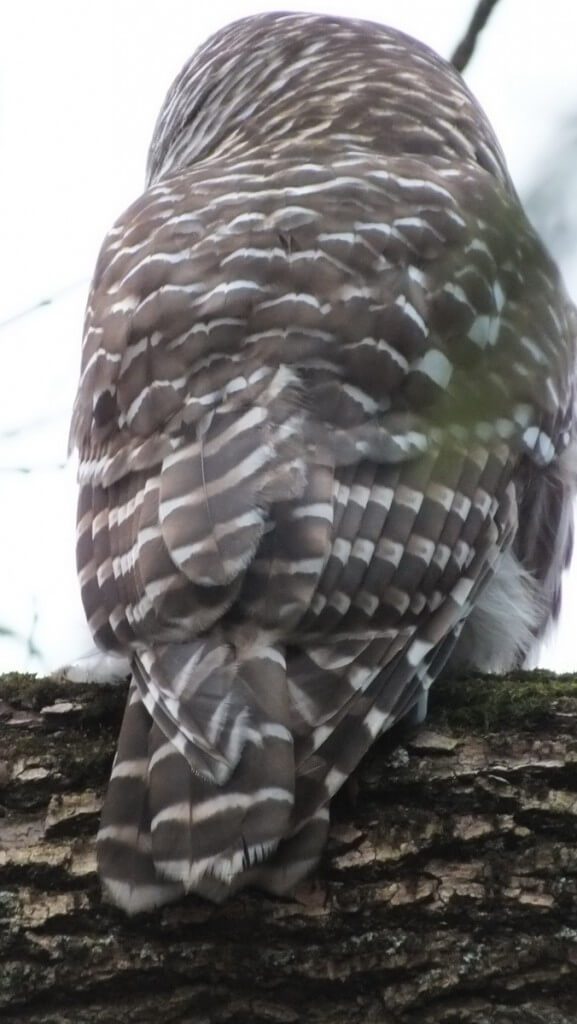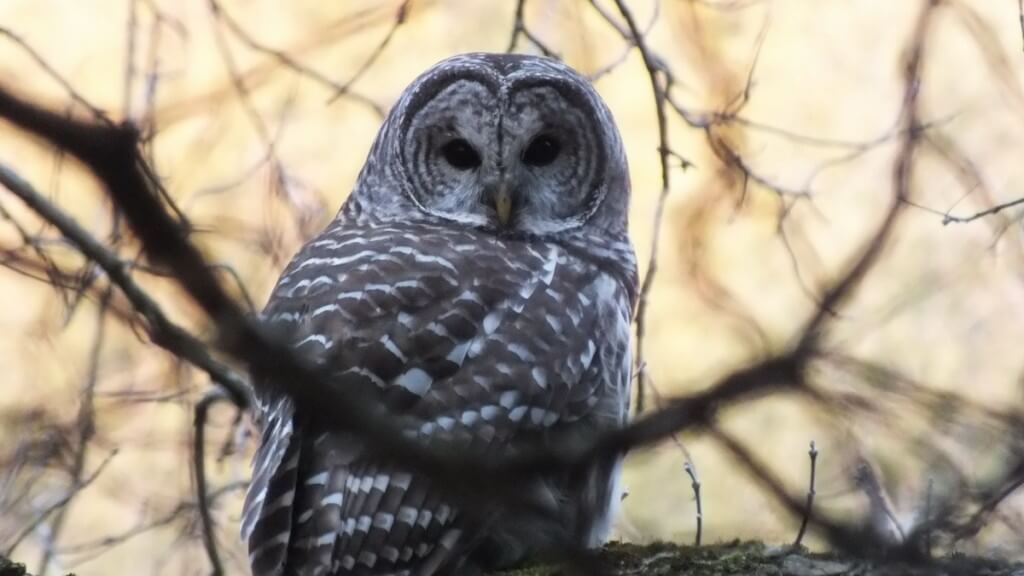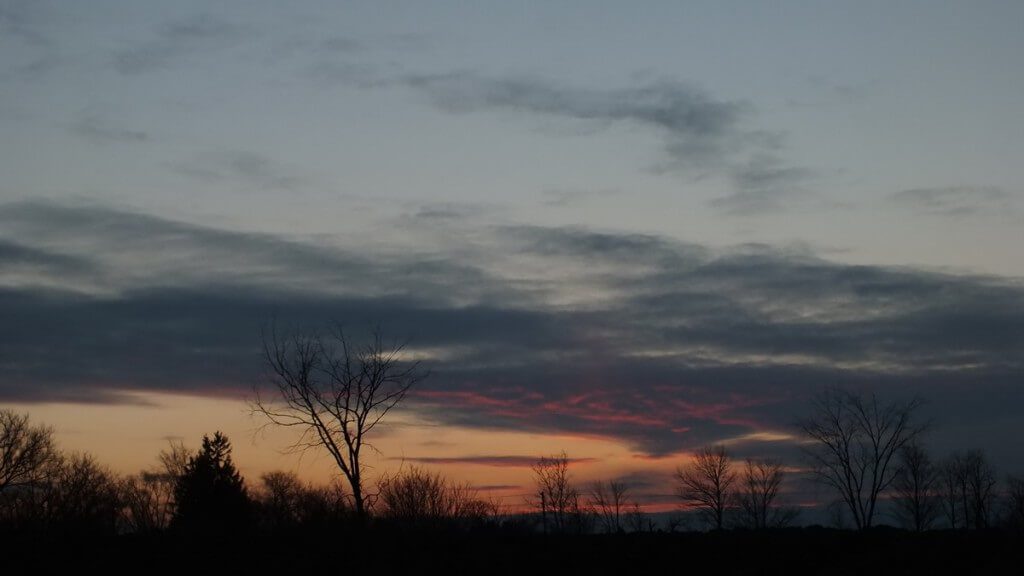 To the west, the sun was setting quickly.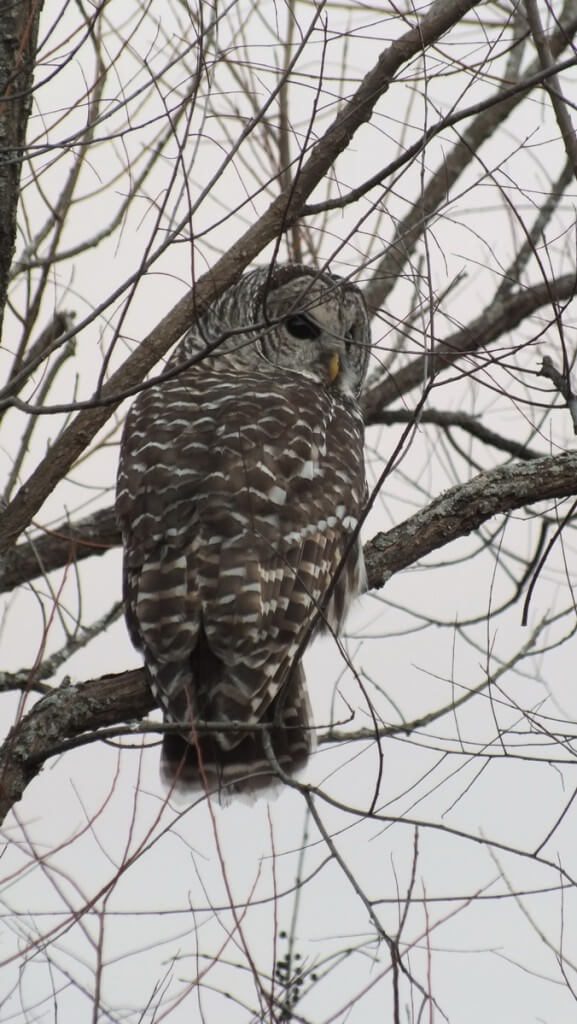 This sighting was the first time we had ever seen a Barred Owl in the wilds, and only the second time that I had observed any wild owl.
You May Also Like -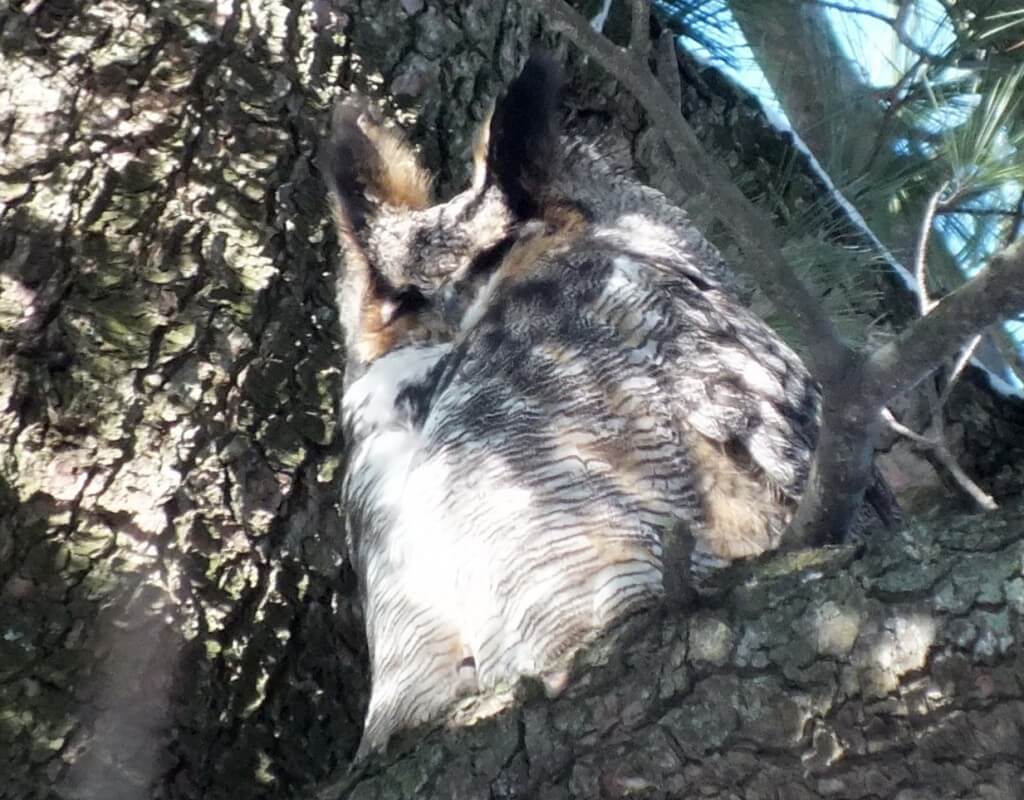 Great Horned Owl Sighting In Thickson' Woods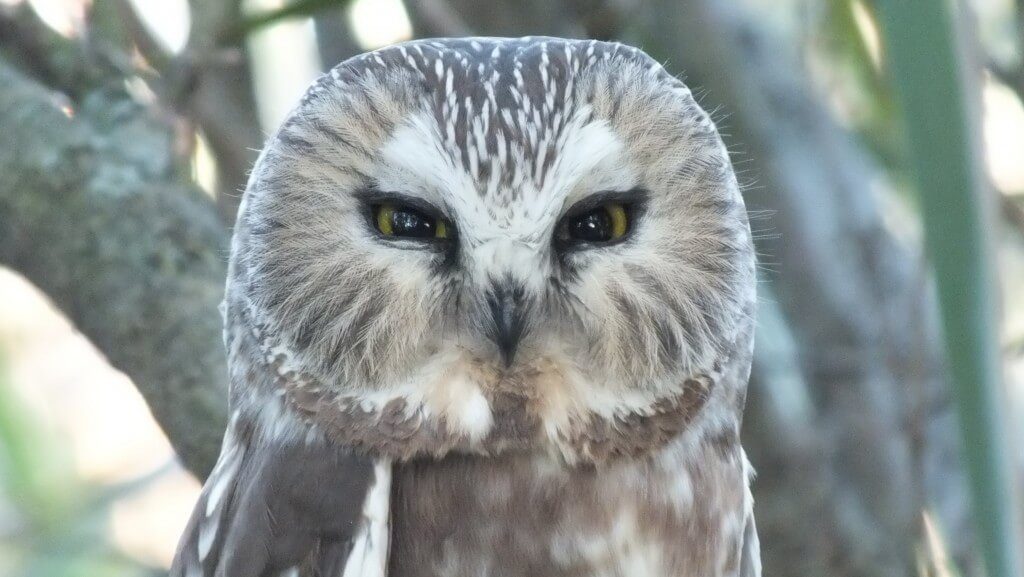 Northern Saw Whet Owl sighting In Toronto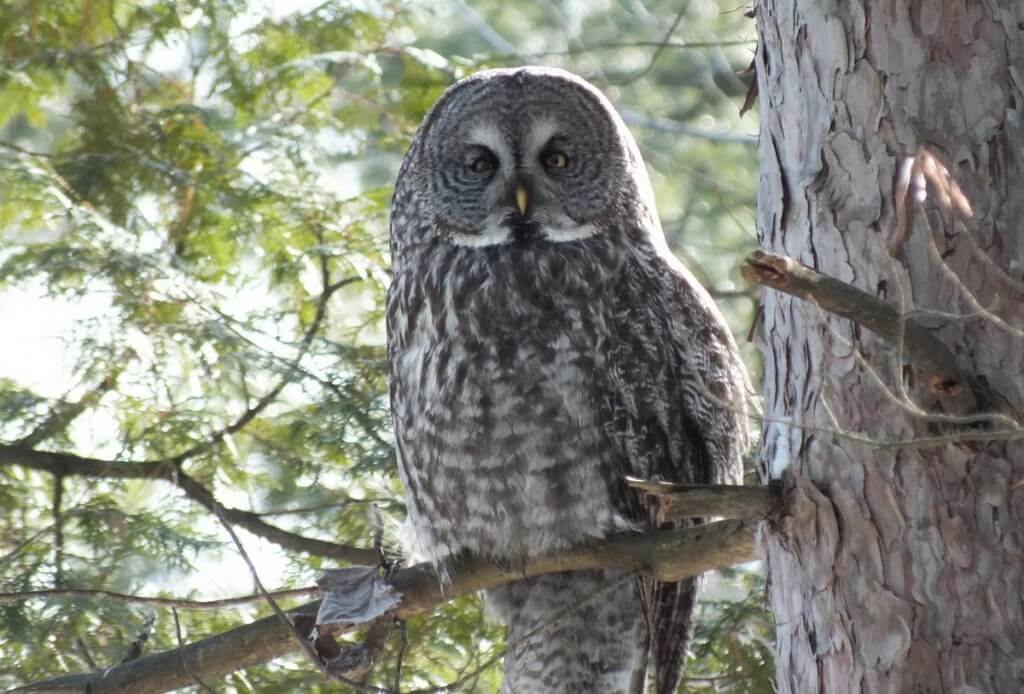 Great Grey Owl Sighting Near Ottawa
Frame To Frame – Bob & Jean