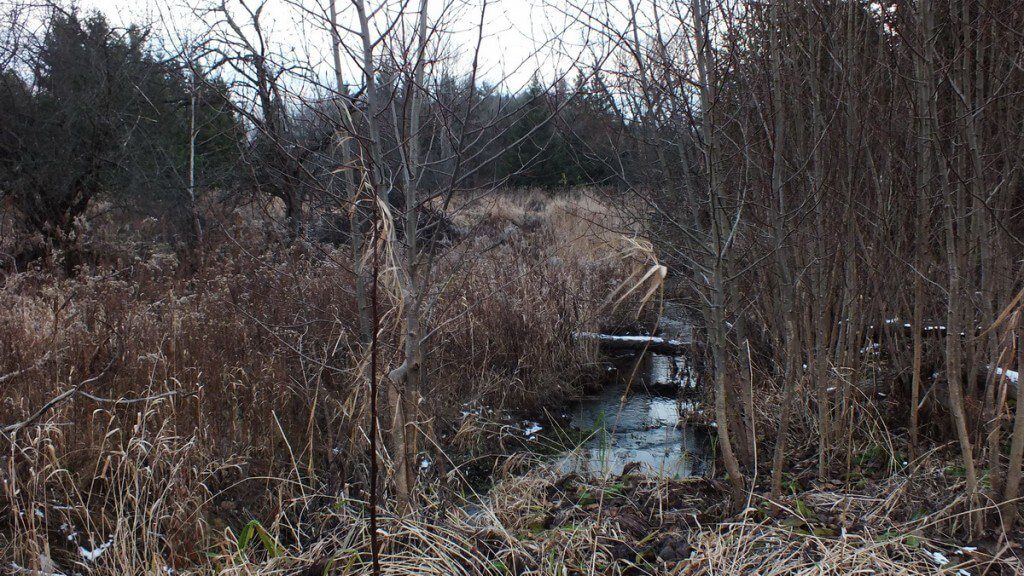 With the first light snow still on the ground, and with a cold northwest wind blowing, Bob and I chose to get out of the house for a while so opted for a hike.  With the luck we have been having lately, sighting birds, it is encouraging and somewhat addictive to go on the hunt for something new.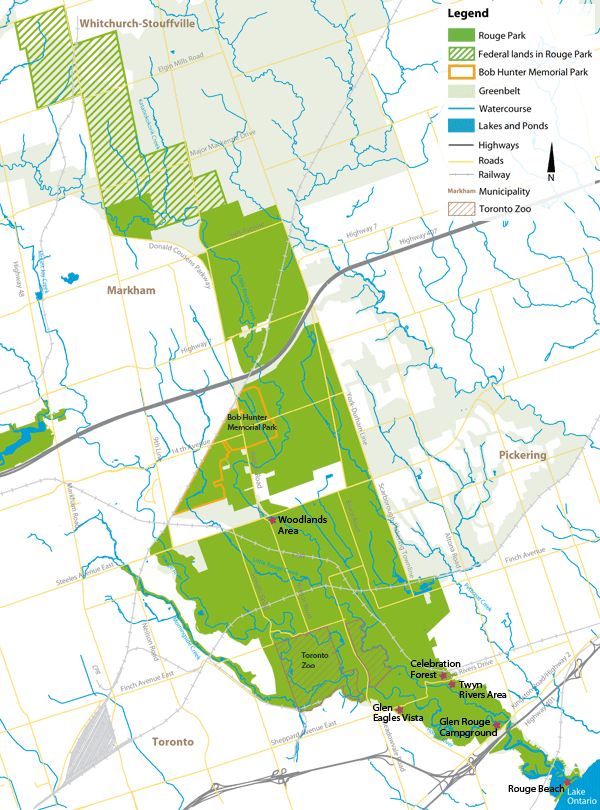 We decided to head to Canada's  newest National Park, east of us, called Rouge National Park.  As this map shows, the park is located in an area through which many rivers and creeks  flow towards Lake Ontario.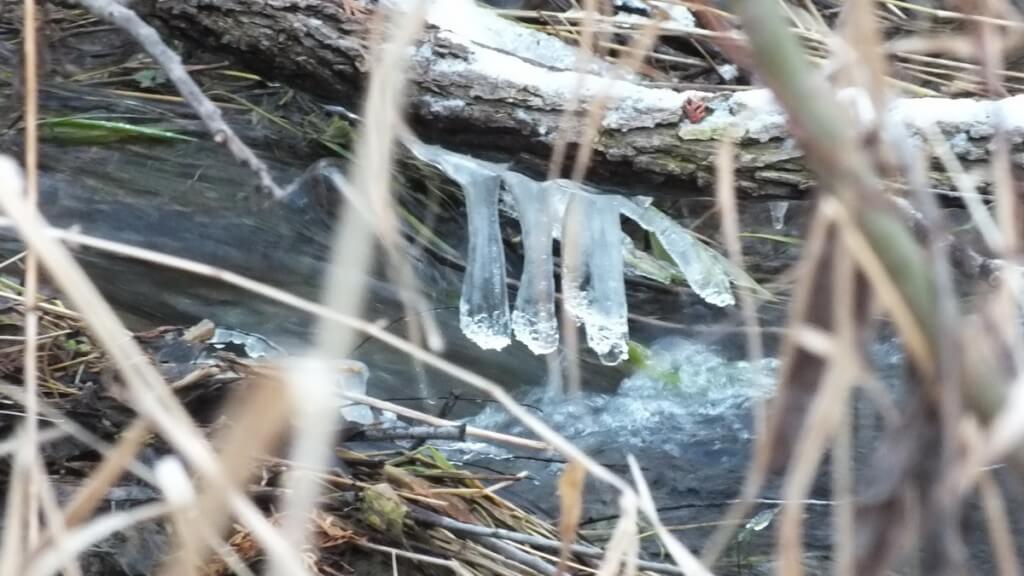 Despite the air temperature being slightly above zero, globules of ice continued to dangle above the fast moving stream.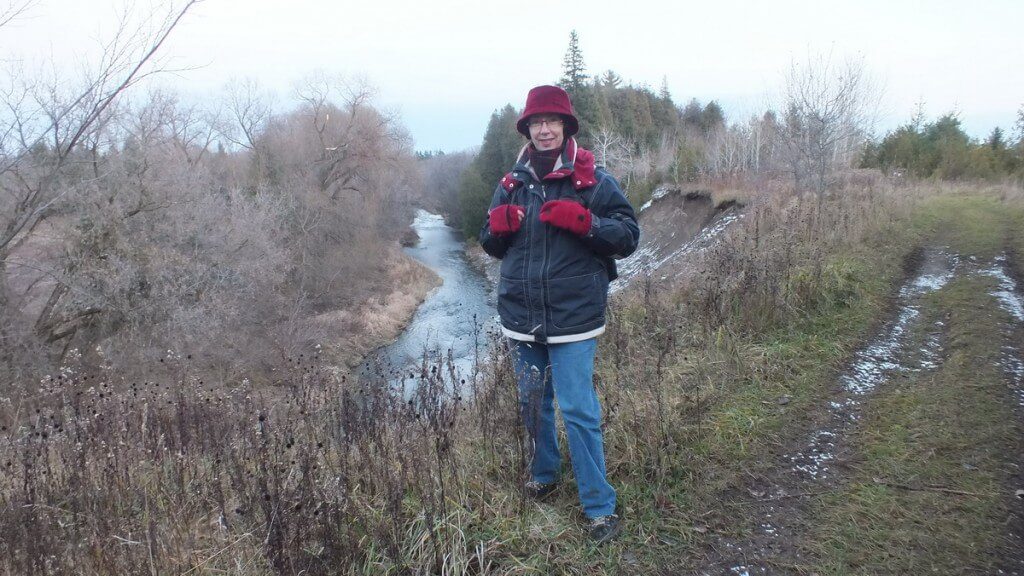 Bob and I were hiking along a small creek, called Duffin's Creek, in Rouge National Park.  It was a pleasant surprise to find that snow was still clinging to leaves and, where hidden from the sun, still coated crevices of the trail and depressions in the long grass.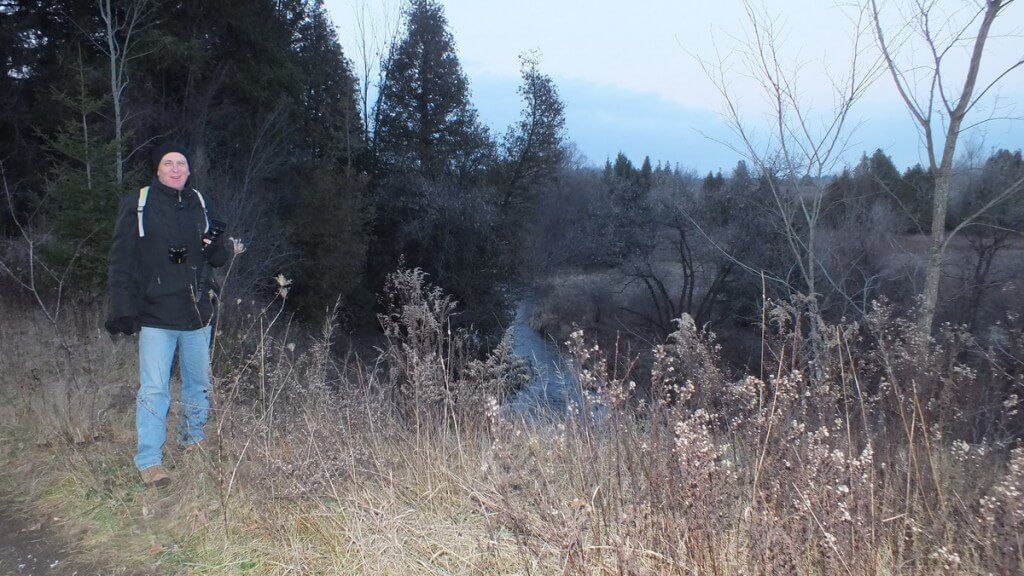 That morning, Bob had predicted, even before we left our house, that we would see an owl on this hike.  I thought, yeah, right…just wishful thinking, but his hunch held true!!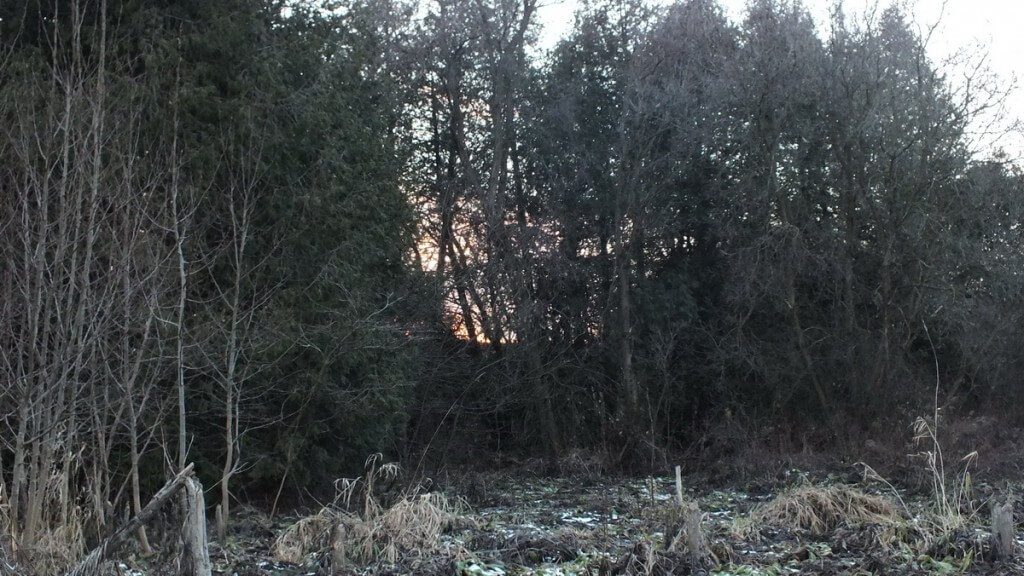 We followed the edge of the creek, retracing our route from an earlier hike this spring, and saw evidence in the mud of several deer that live in that forested area.  Despite being out there for close to two hours, we had seen no wildlife at all…not even a bird.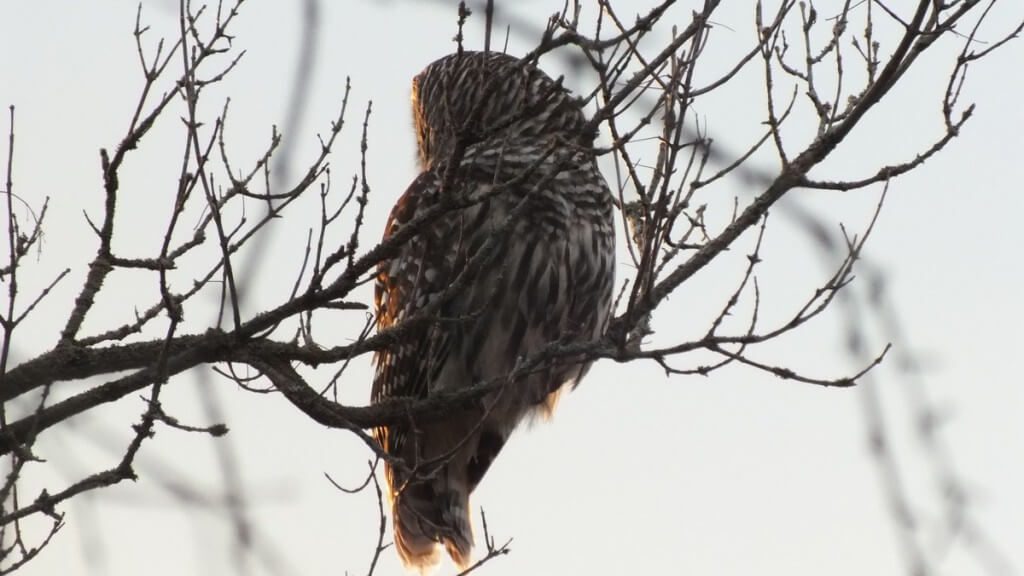 As the sun was sinking lower and time was getting on, Bob's eye suddenly registered an usual silhouette in a tree as he glanced to the right.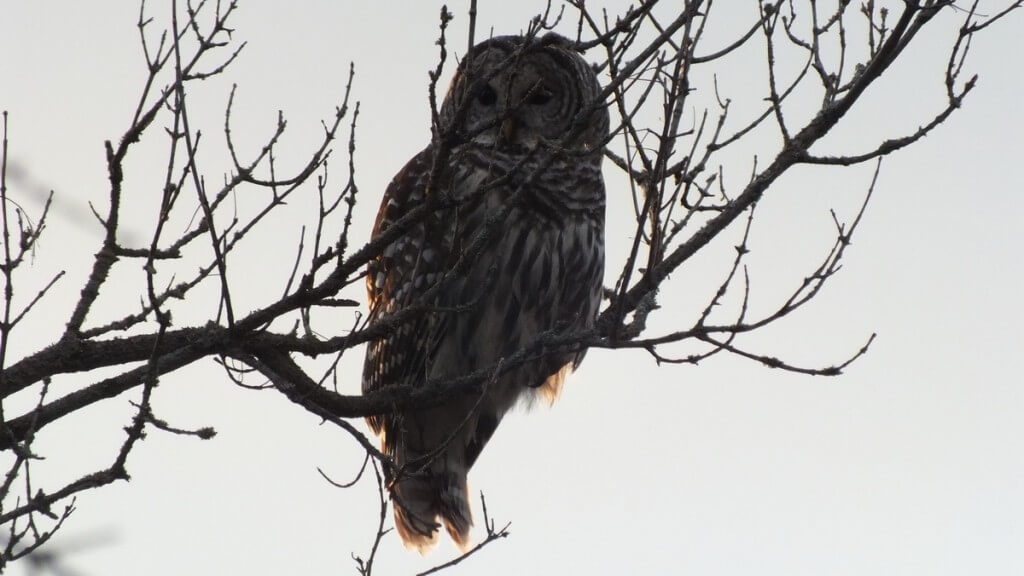 There, sitting on a branch, in a tree next to a cornfield, was a Barred Owl.   What a pleasant surprise!!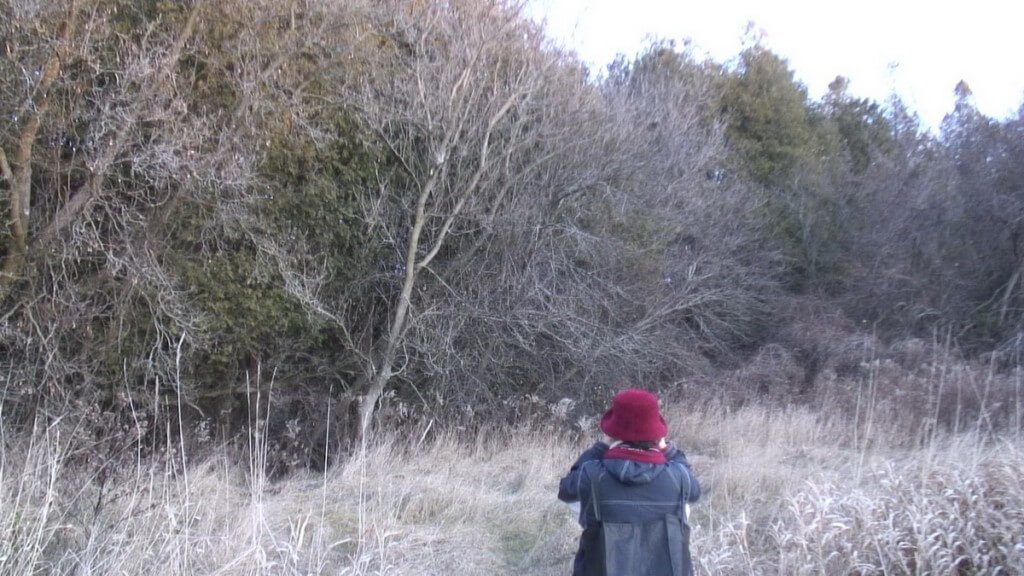 I immediately picked up on its presence, cast my mitts to the ground and turned on my camera.  Bob was already filming by then.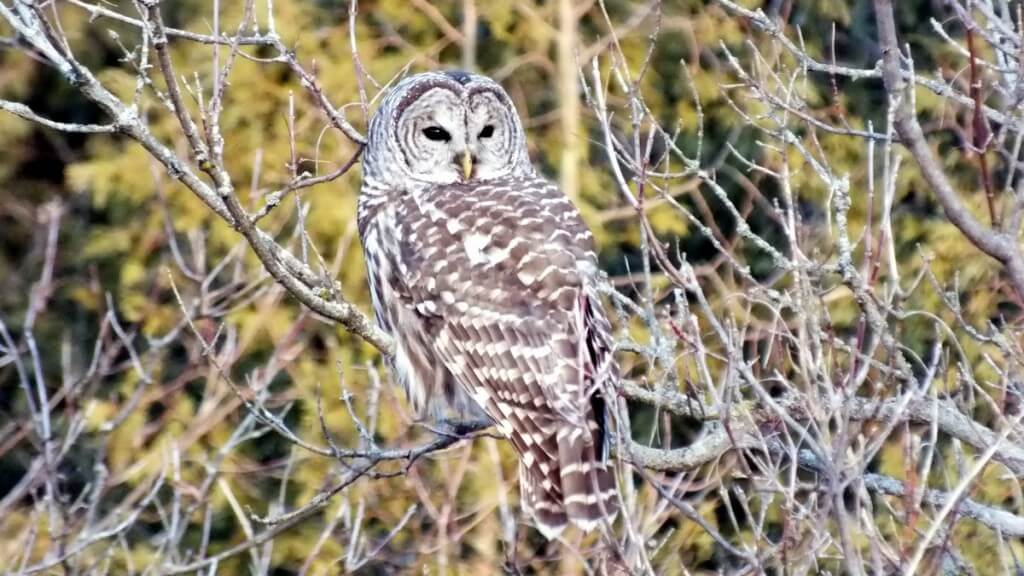 At first, we were shooting into the setting sun,  but soon cut into the long marsh grasses that edged the field.  We slowly circled in order to put the sun behind us, keeping the Barred Owl always in our sights.  Slightly smaller than a Great Horned Owl, they have a well-developed facial disk, with dark eyes.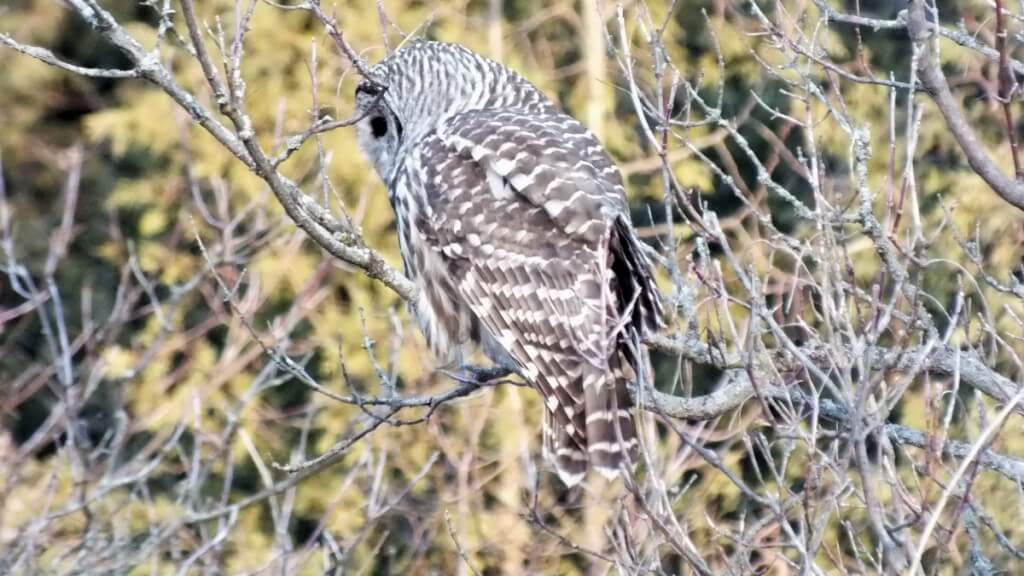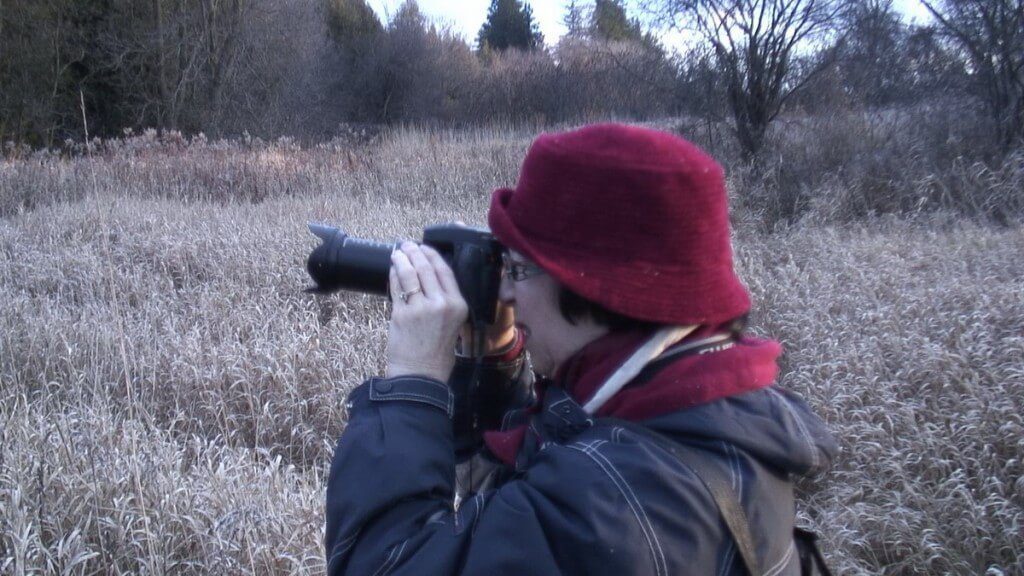 We got quite a few pictures of the owl even as we crept closer, while the owl kept a watchful eye on us.  Finally, it decided to fly into a thicket just a bit further along the trail; we were able to follow its flight path and didn't lose sight of it.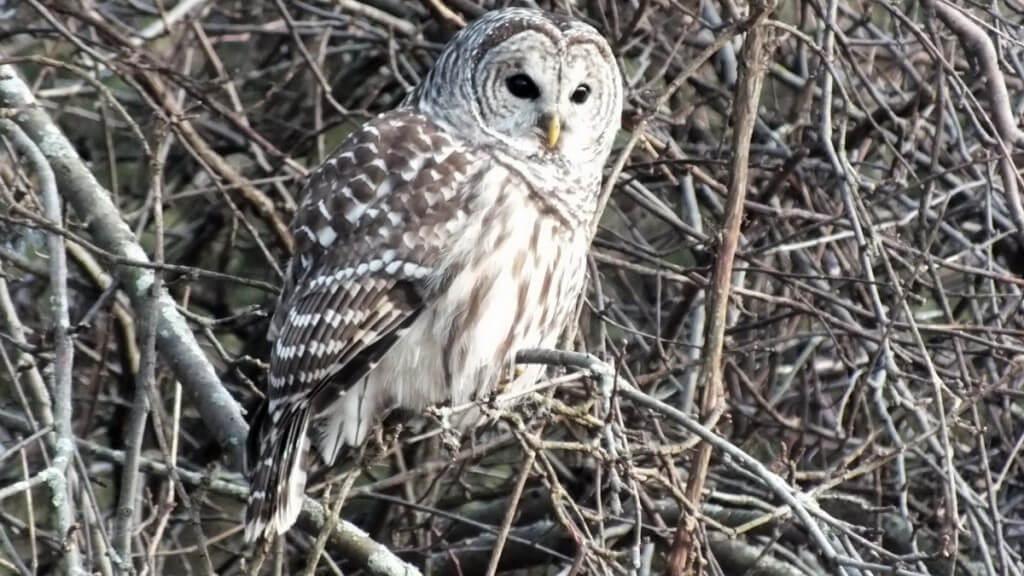 Barred Owls are very common in the United States and central and northern Ontario, however they are extremely rare in parts of southwestern Ontario where only 10 known pairs exist.  According to Bird Studies Canada, Barred Owls are elusive birds making them difficult to actually sight and observe.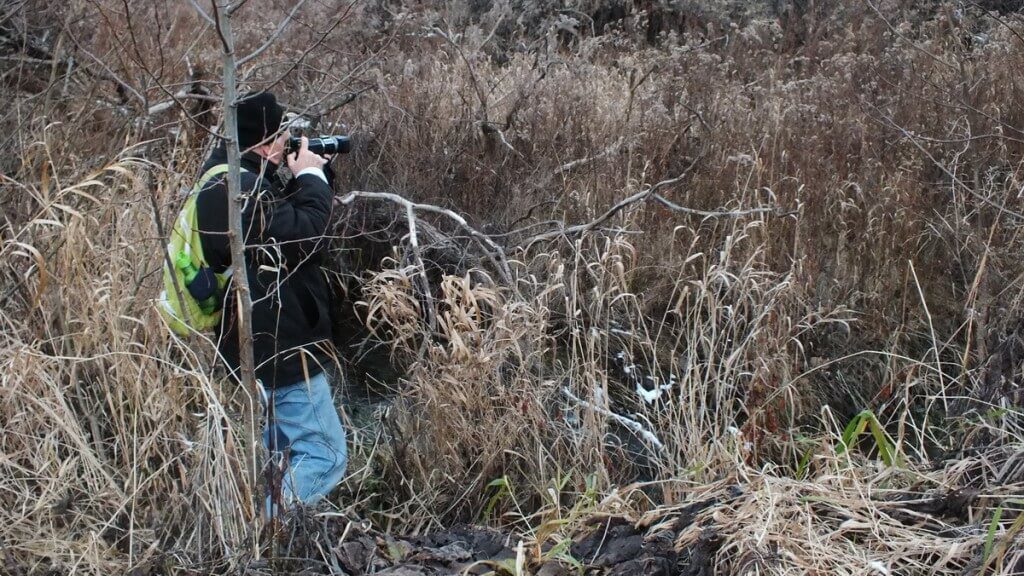 Bob moves slowly through the long marsh grass as he films the Barred Owl in a distant tree.
In this video, you get a chance to follow the Barred Owl through the forest as we film it.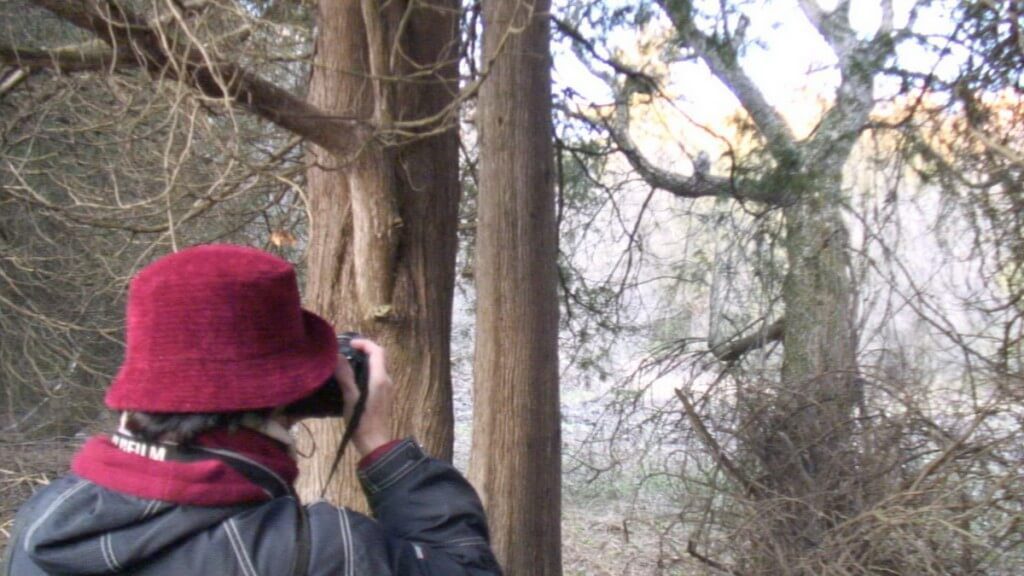 As we moved towards the Barred Owl, a ruffed grouse burst up out of the brush, crossed the trail in front of me, and then flew into the cedar bush next to the stream.  Lo and behold, the owl took off in the same direction but then settled on the branch in this picture.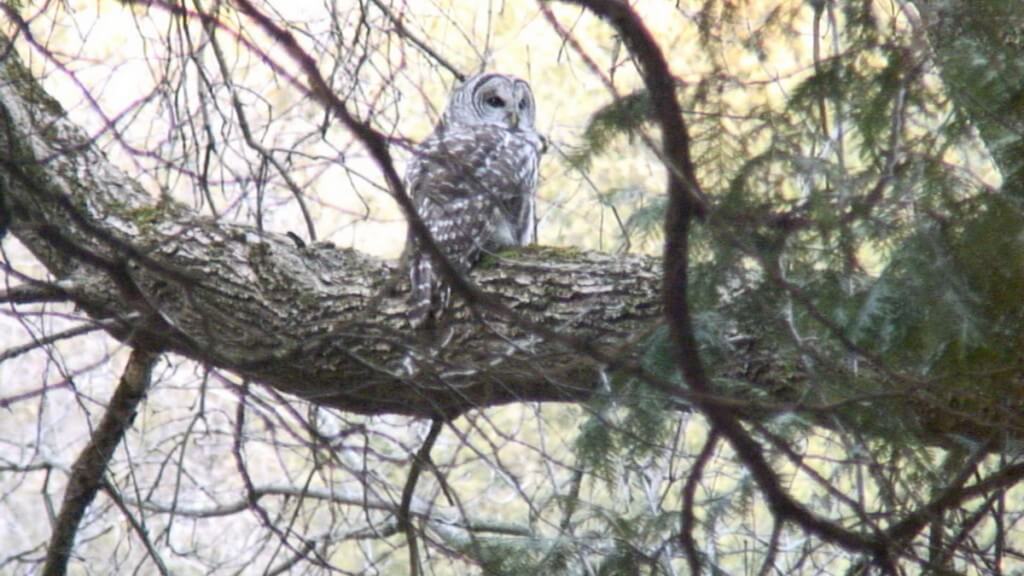 Barred Owls like to eat small mammals like squirrels, mice and rabbits, and even, on occasion, they will eat other birds like grouse.  In the area where we first spotted the Barred Owl, corncobs from the nearby cornfield littered the forest floor.  This provided an easy food source for ruffed grouse, rodents and the local Red squirrel population, so this Barred Owl had picked a good location to search out dinner.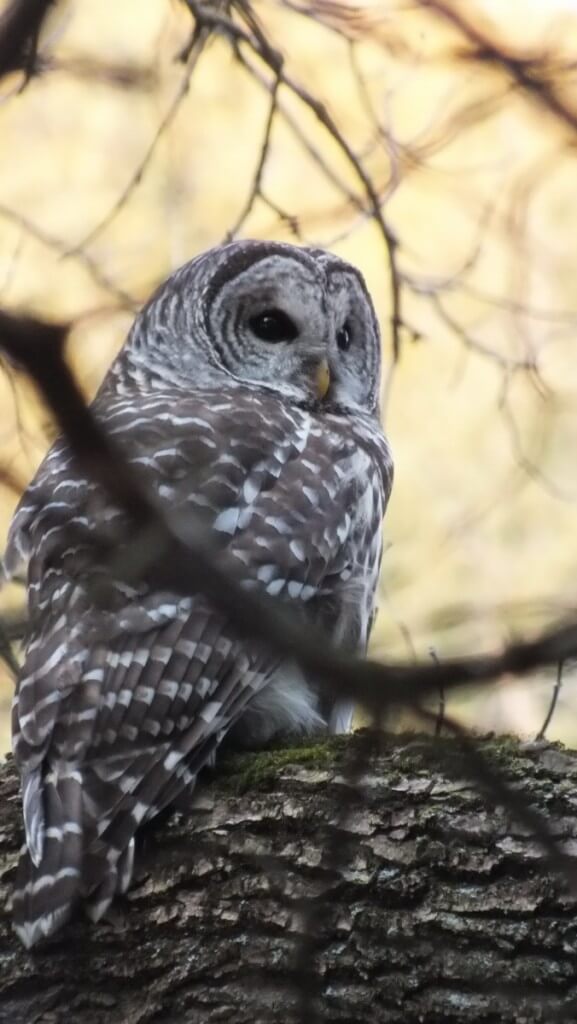 Stealthily moving closer towards the owl on its newest perch, we were able to continue photographing and filming while it maintained vigilance over its surroundings.   Barred Owls are gray-brown in color, with a round head and NO ear tufts.  Adults tend to be around 43-50 cms in size.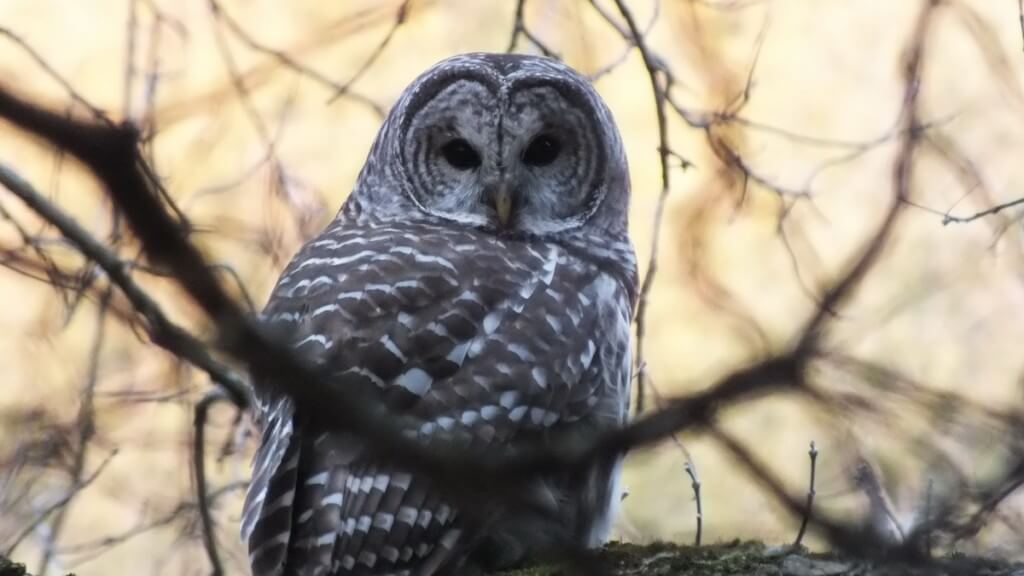 Our Barred Owl was not alarmed by us, and made no sound, although once it finally disappeared into the bush, I did hear it utter a few soft squeaks.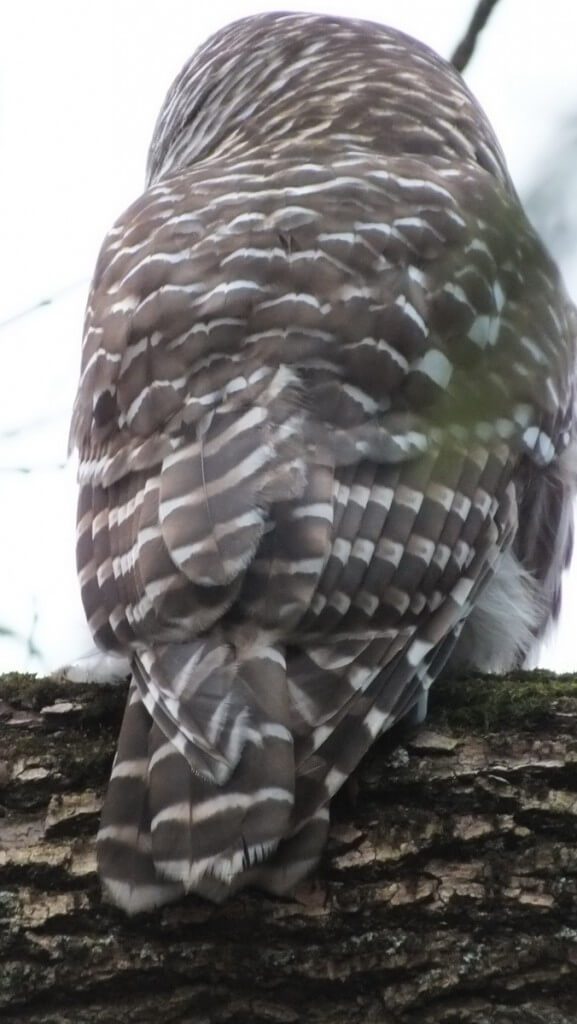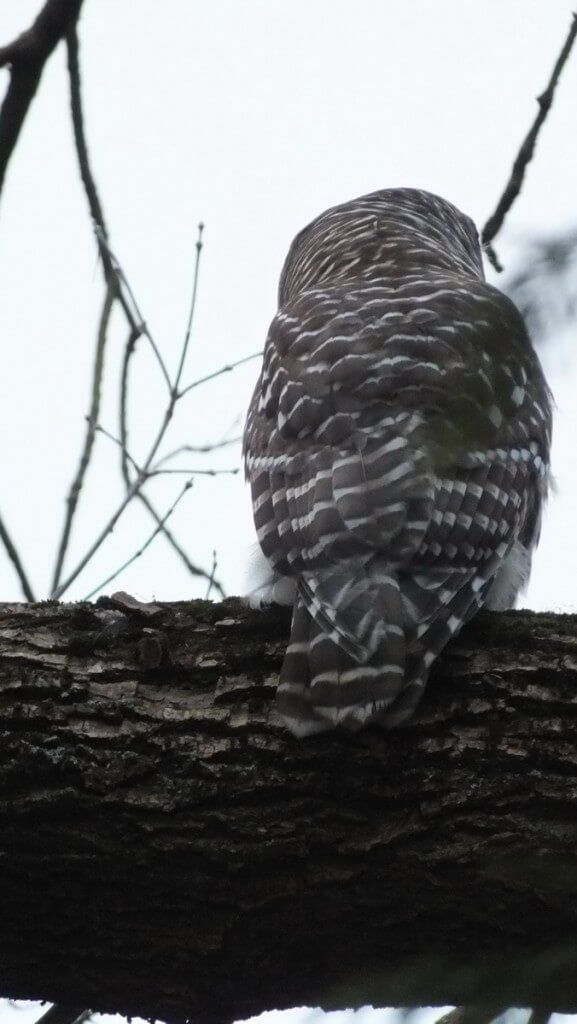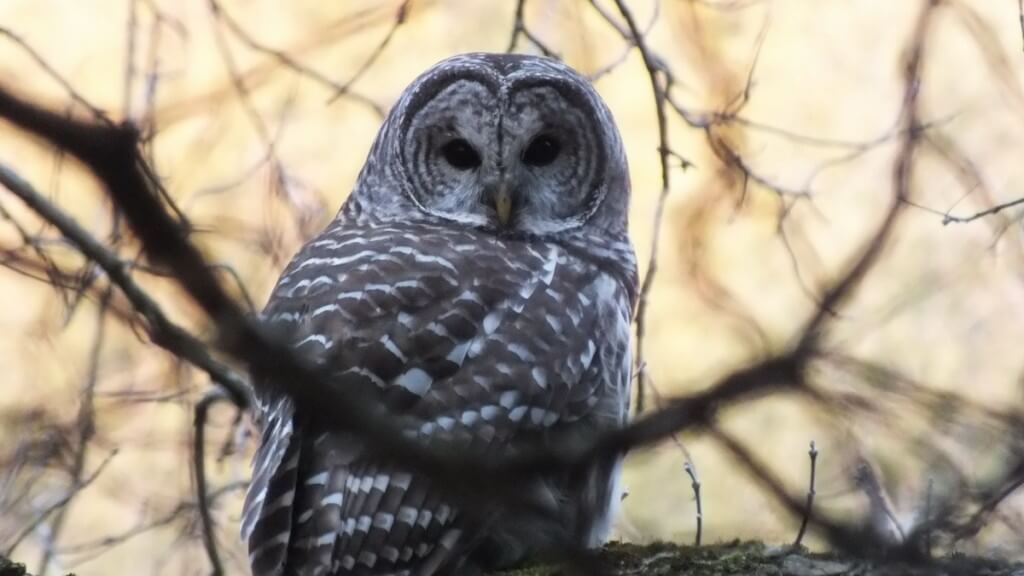 It was amazing that we were afforded so many varied backgrounds for our pictures, made possible by the owl's constant changing of location.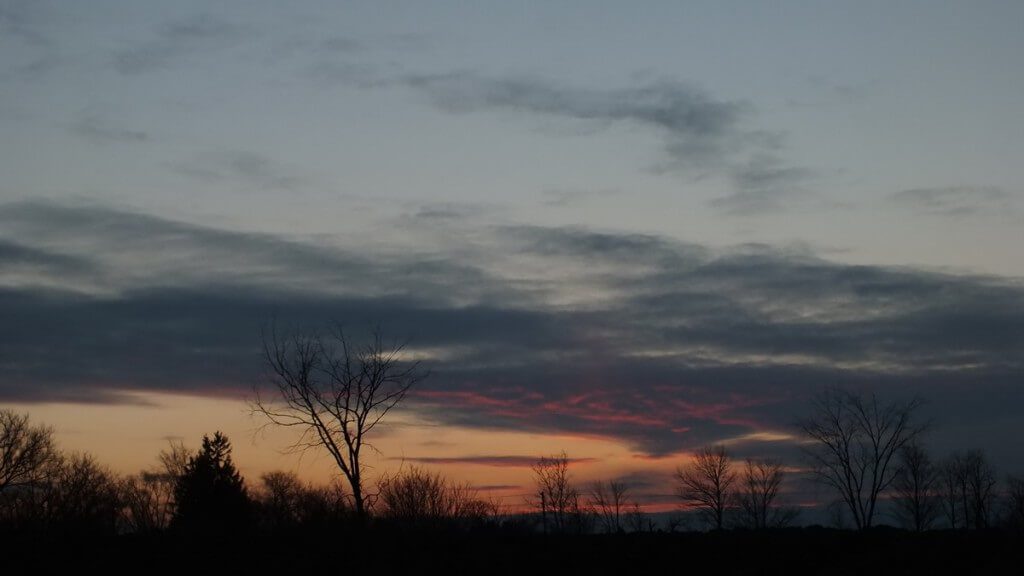 To the west, the sun was setting quickly.  We had spent about an hour in pursuit of the owl's movements.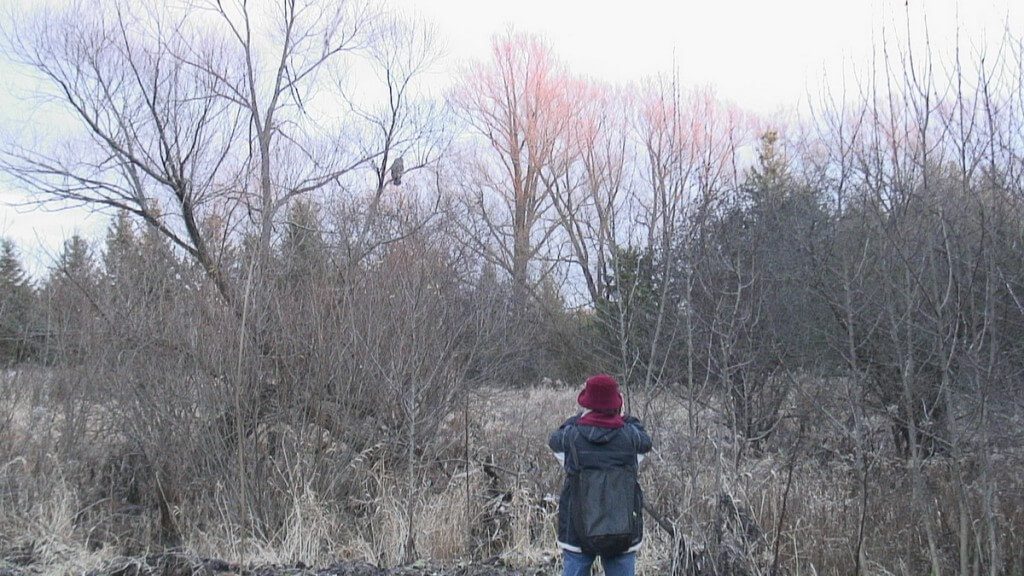 Once again, it took to the air and flew across the frost-flattened vegetation bordering the creek, where it took up another position above its feeding grounds.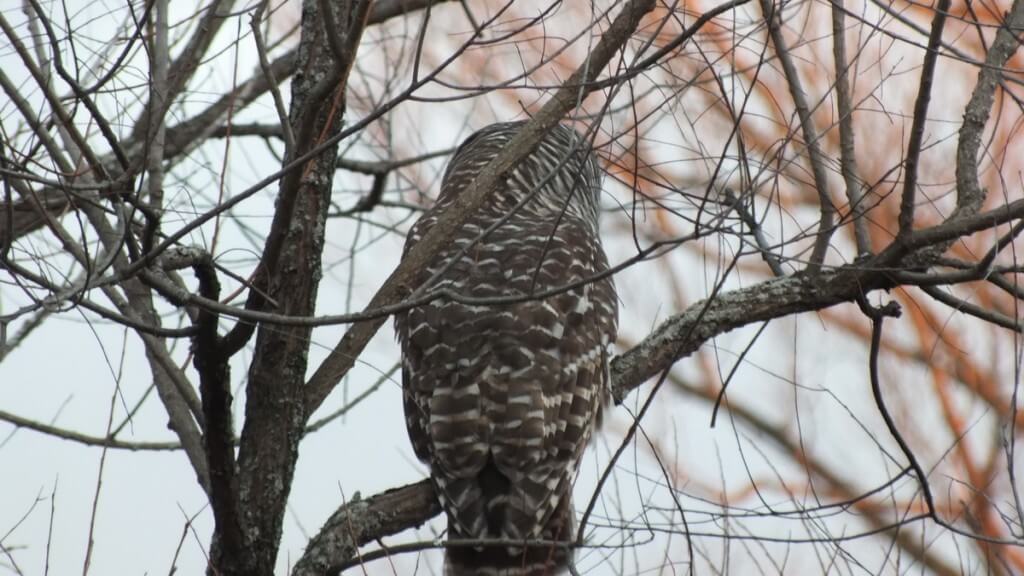 Its plumage was nicely highlighted because the sun's rays were no longer blocked by trees.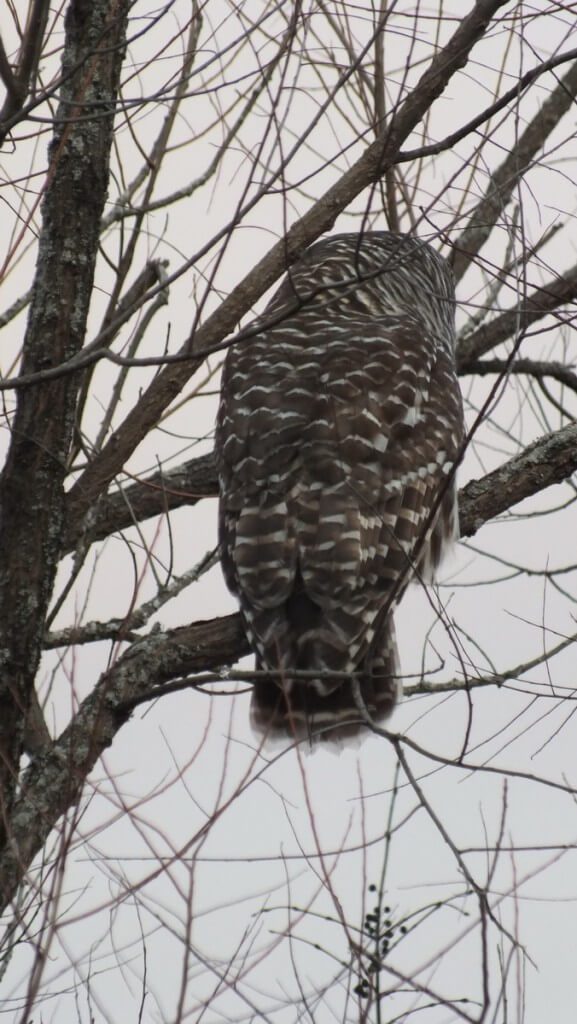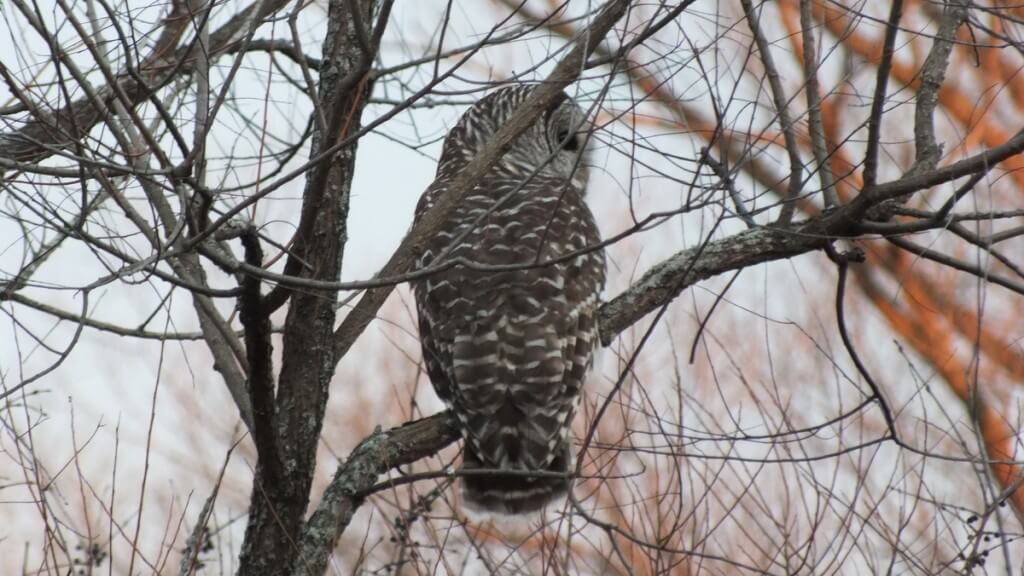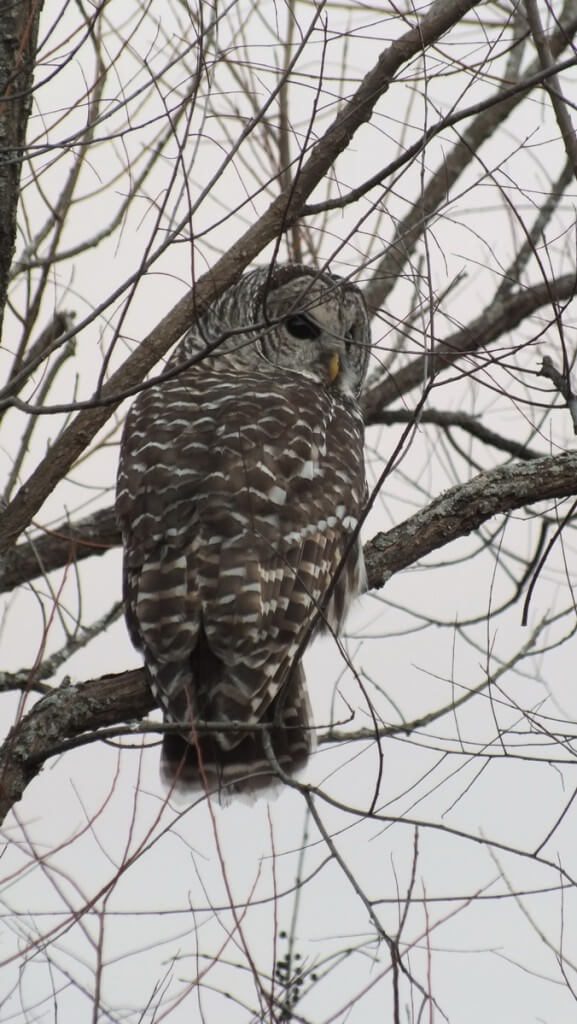 That was an amazing experience!  When we got home, I immediately looked up the owl in our bird book, and confirmed it was a Barred Owl, the same type of owl that we had heard hooting in the depths of the night when outback canoeing and camping in Frontenac Provincial Park, in Ontario.  This actual sighting was the first time I had ever seen a Barred Owl in the wilds, and only the second time that I had observed any wild owl.  And to think that Bob had actually predicted it!!
Checkout some of our other Owl sightings: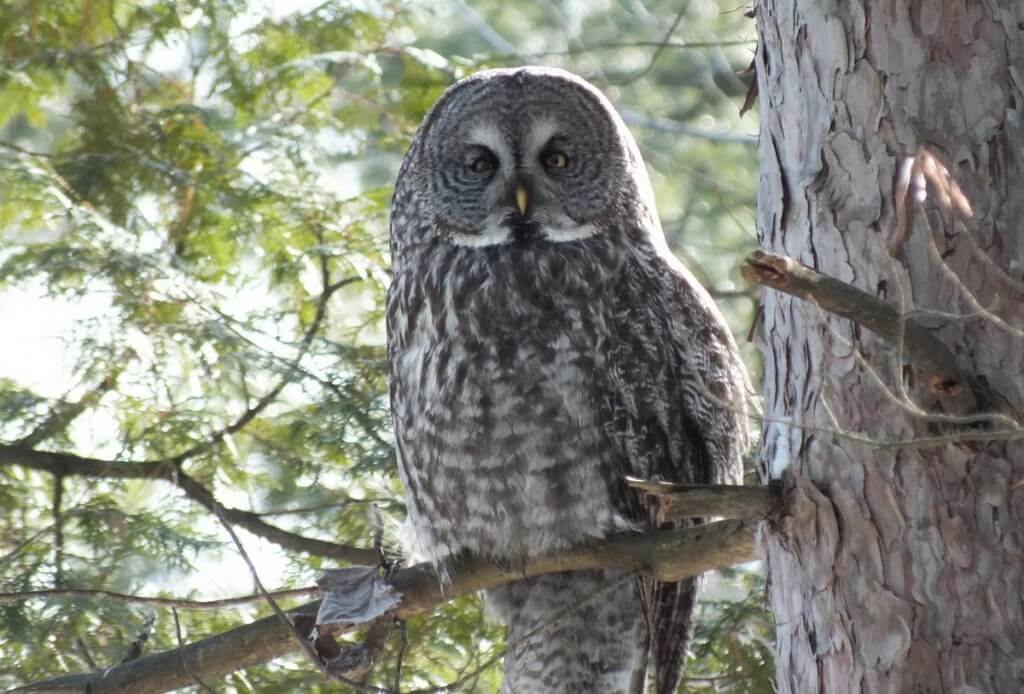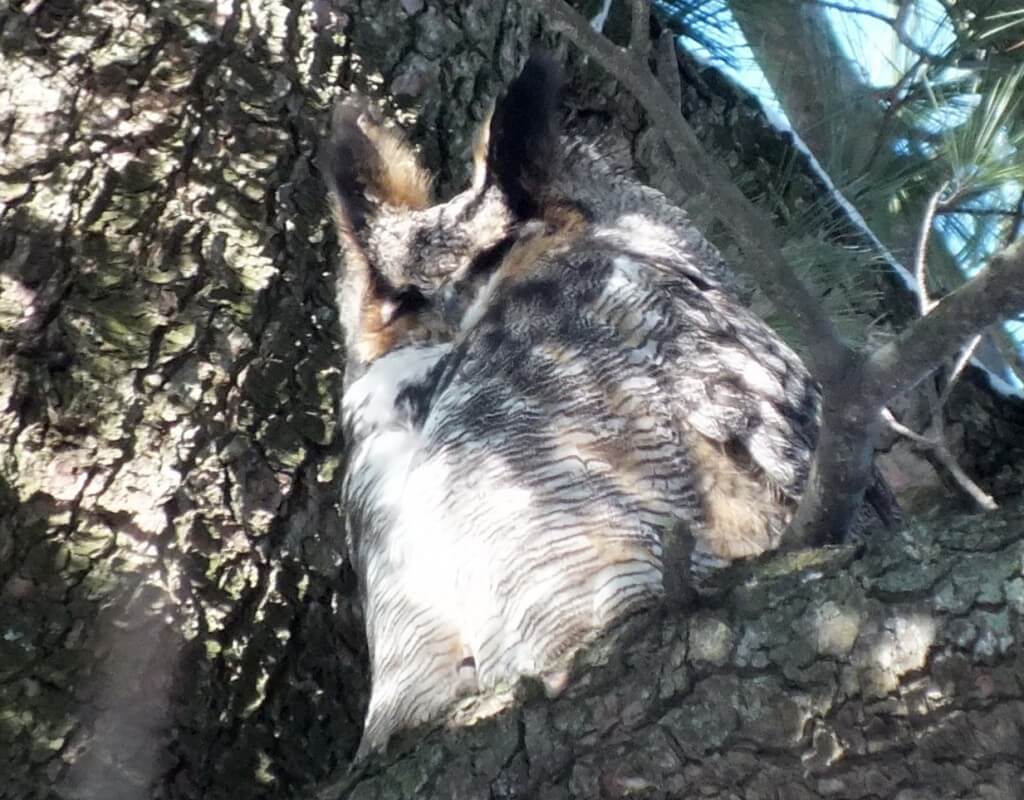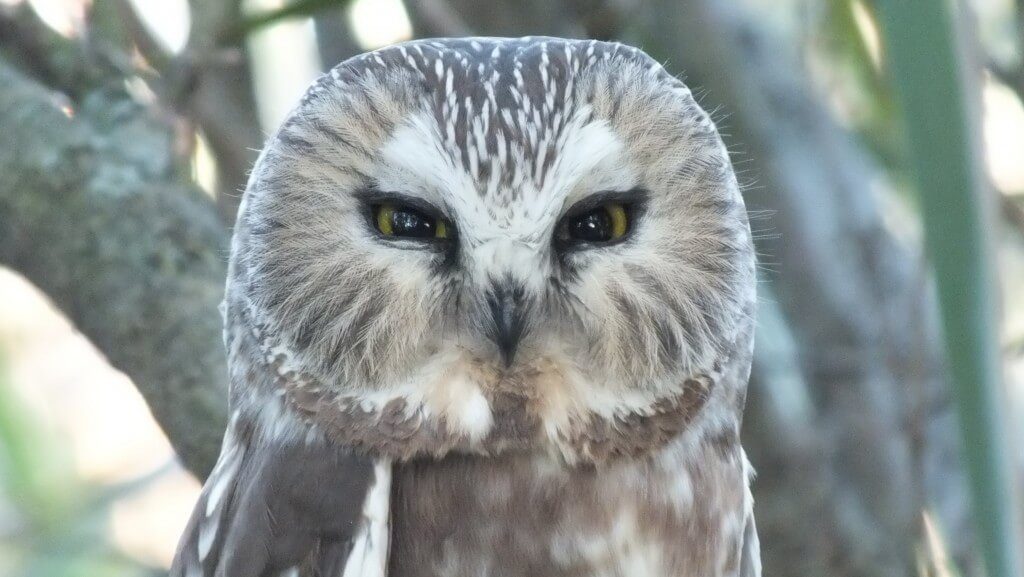 Northern Saw Whet Owl sighting
Frame To Frame – Bob & Jean